Introducing Aerial Yoga Party Packages at CALM
Discover the fun of aerial yoga, now available to enjoy exclusively with your nearest and dearest!
Whether you're planning a birthday, hen party, team building day or even just a good old catch up with friends, a private aerial class at CALM is sure to be the highlight.
Suitable for groups of up to 9 people, our aerial yoga packages provide an hour and a half of fun, discovery or pure relaxation, depending on what suits your group best.
Ready to plan the best day ever? Explore our packages below and secure your preferred slot today.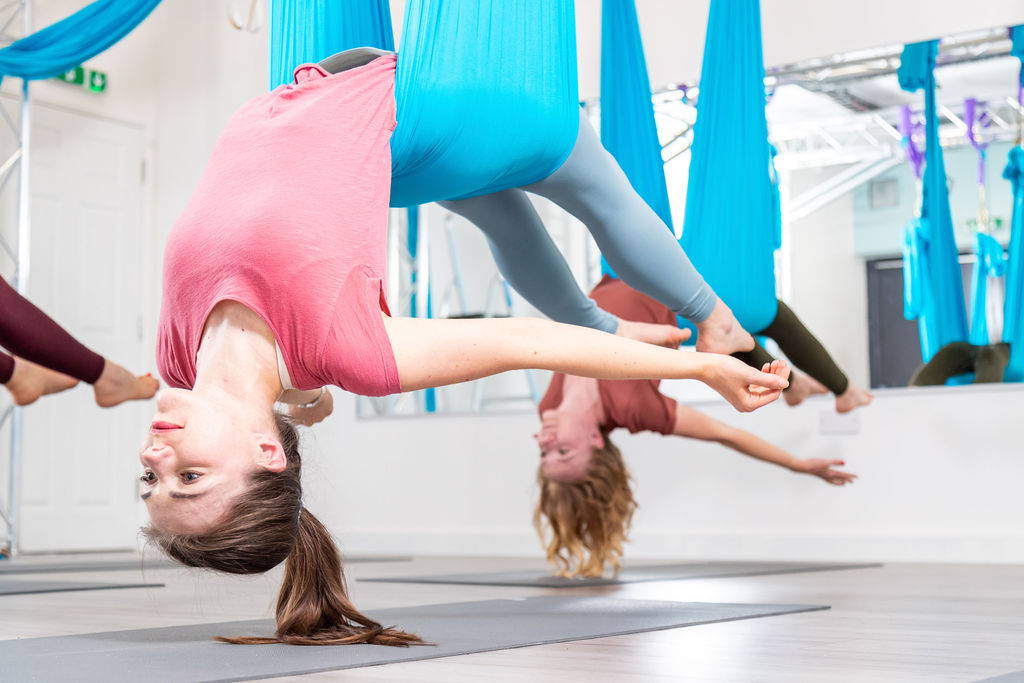 Come and try an aerial yoga class or a class based on aerial pilates at CALM.
Aerial classes are the latest addition to our Derby studio with our dedicated aerial studio room.  
During aerial classes, hammocks are used as a prop to offer extra support in many postures and even a feeling of weightlessness.
This fun-filled practice will support you in building strength, flexibility, balance and coordination– all whilst trying something new and having a few laughs!
Whether you want to drift away and relax in one of our heavenly hammocks, build strength and flexibility or learn to fly we have a class suitable for you. Keep scrolling for a description of the different aerial classes on offer at Calm including a variety of aerial yoga classes including a beginners aerial yoga class. Please note aerial classes are not suitable during pregnancy and you must be over 16 to attend.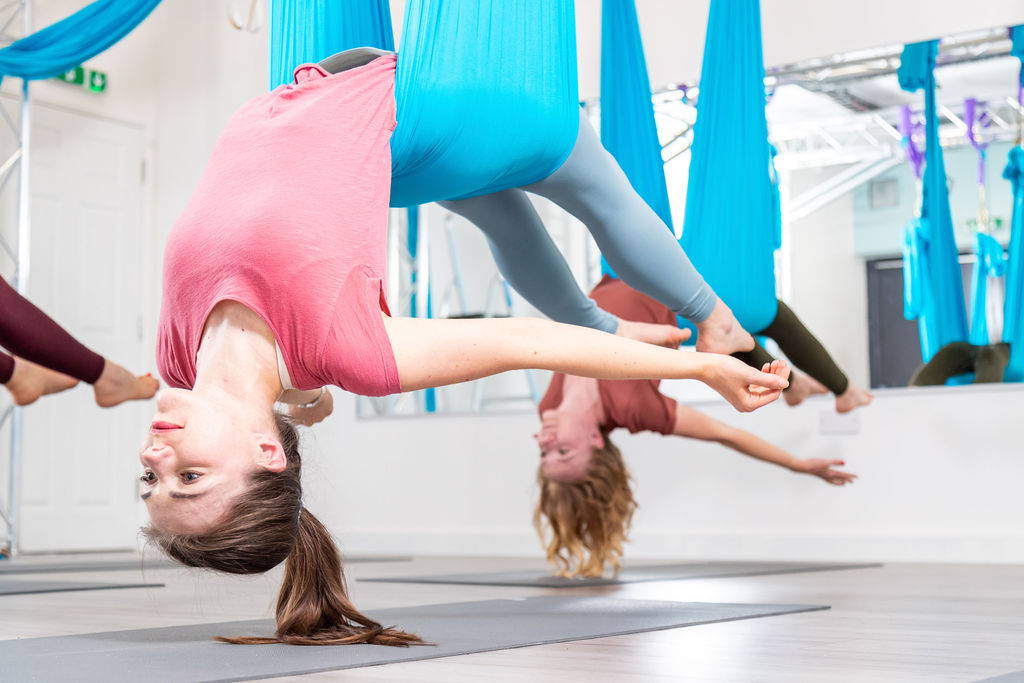 This package aims to get you upside down and fighting fear into the most insta-worthy of postures!
Suitable for all but best for those who have attended at least one general aerial yoga class.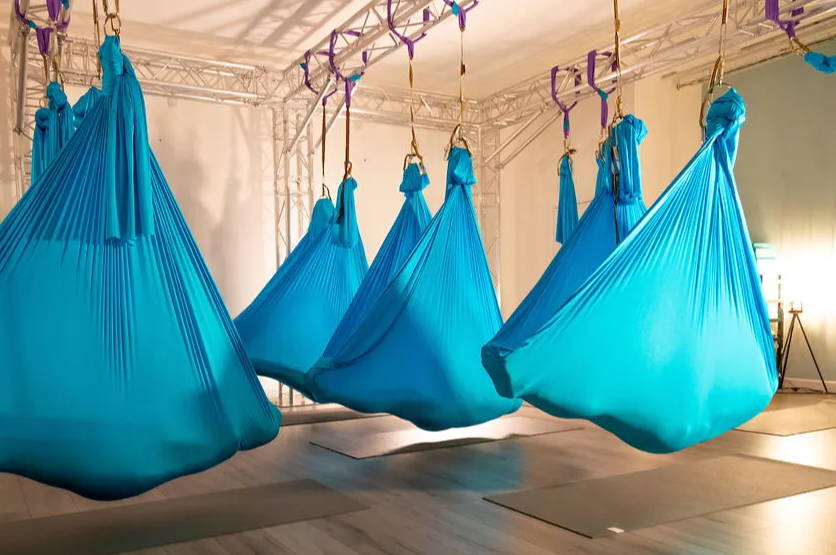 A purely relaxation focussed session at the lower height hammock. Floating effortlessly just off the ground.
We use additional props such as blankets and bolsters for maximum comfort.
Leave feeling weightless and stress free.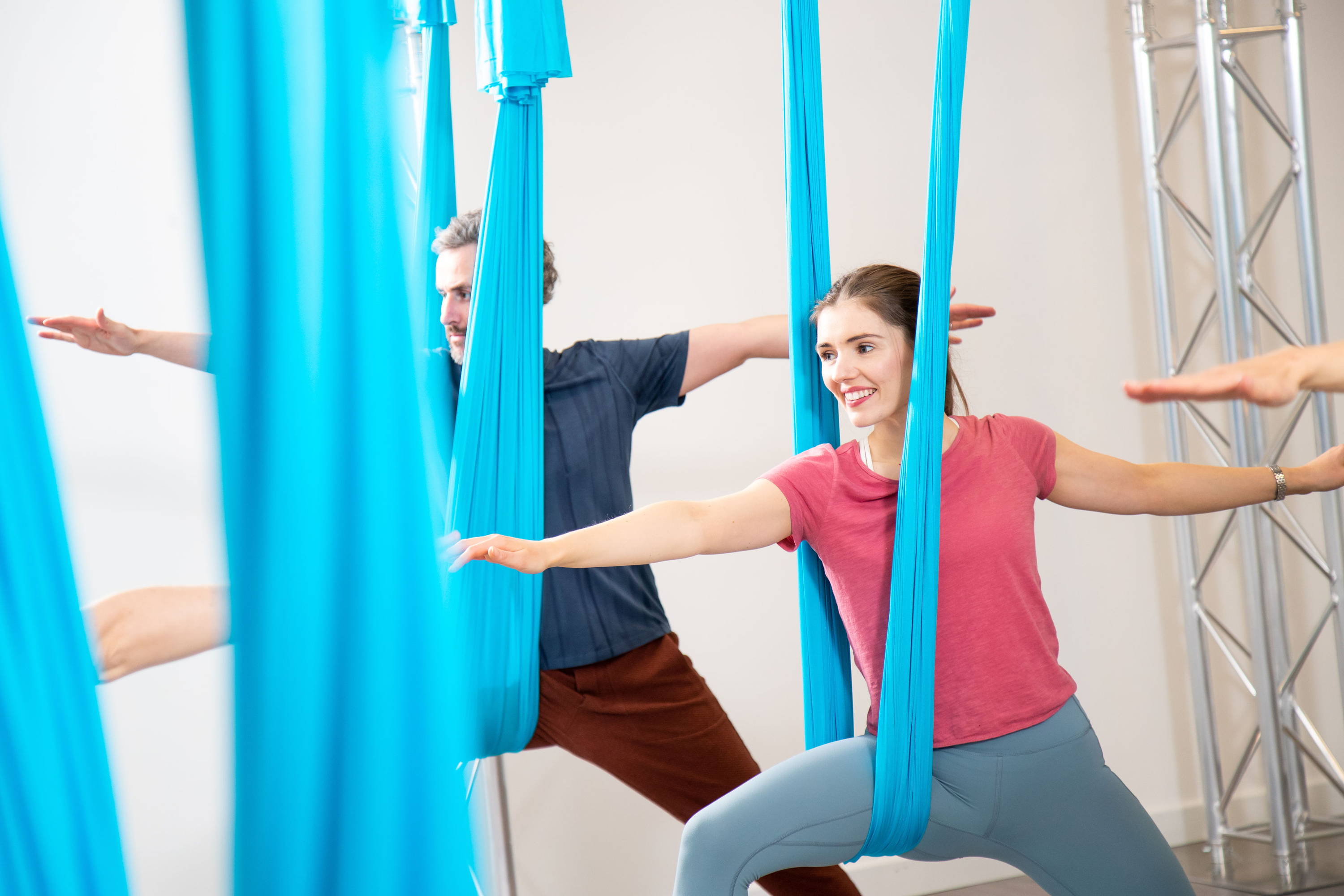 For beginners to build confidence together.
You will be guided through the use of equipment into different supported yoga postures.
Watch your confidence and skills grow as the session progresses!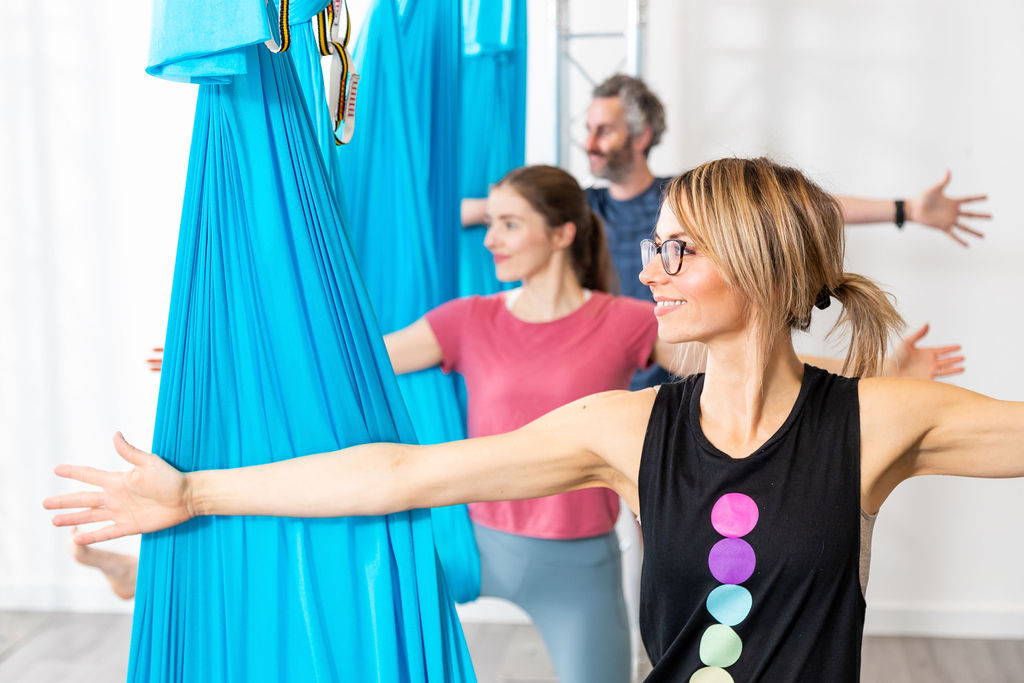 This class is designed for those that want to give aerial a try but want to build their confidence up slowly. You will be introduced to the hammock as a yoga prop and shown how it can support you. Don't worry you won't be expected to hang upside down or anything like that! You will leave having ironed out some of the knots in your body and float out of the door relaxed and ready for the rest of your day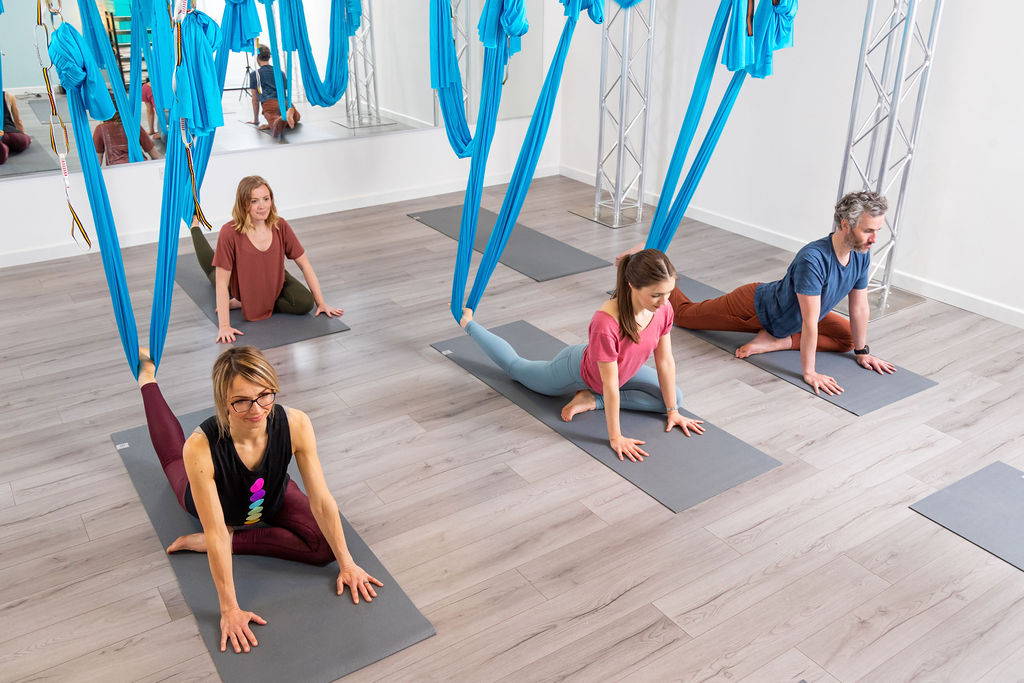 A class suitable for all that uses yoga hammocks as an additional prop to help you to flow through yoga postures with a sense of support and weightlessness.
This class is a mixture of finding playfulness with some fun challenges, strength building and great to stretch it all out!
Find your inner child and notice the time fly by as you lift off into the world of aerial yoga.
Please ensure you wear a top that covers your armpits. This helps us to keep the hammocks clean and hygienic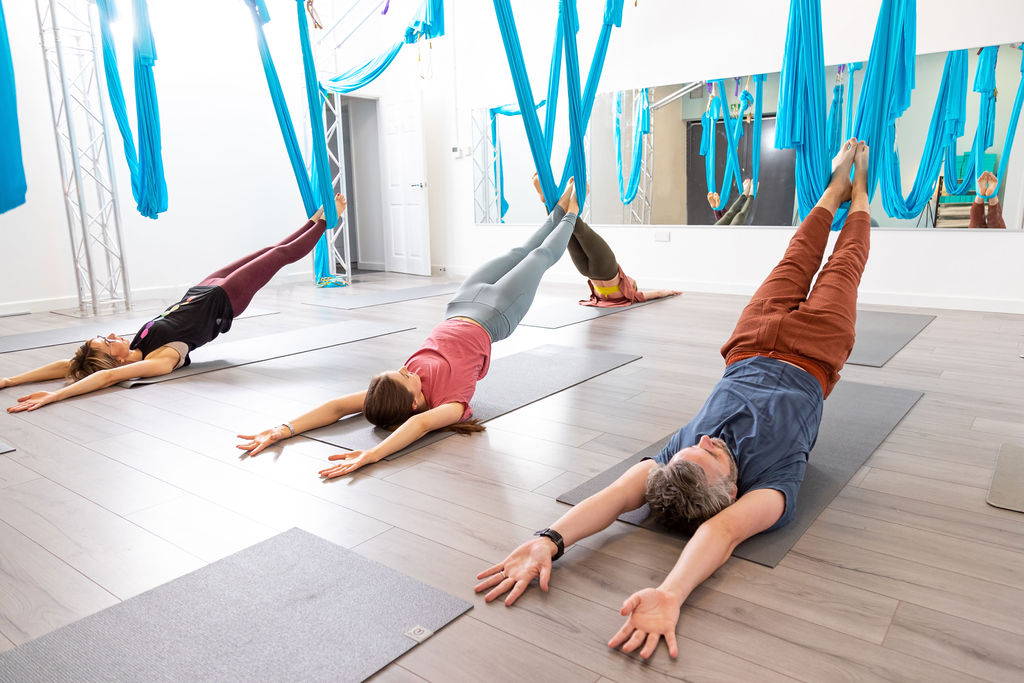 Aerial Stretch and Release
Whether you run, swim, cycle or spend time in a desk job, you are likely to build up tightness and tension in your muscles.
In this class we work with the yoga hammock at a lower level and focus on stretching out tight hips, hamstrings, backs and shoulders.
Suitable for all, you will feel like you've given yourself a sports massage with a deep release into all those tight spots!
Please ensure you wear a top that covers your armpits. This helps us to keep the hammocks clean and hygienic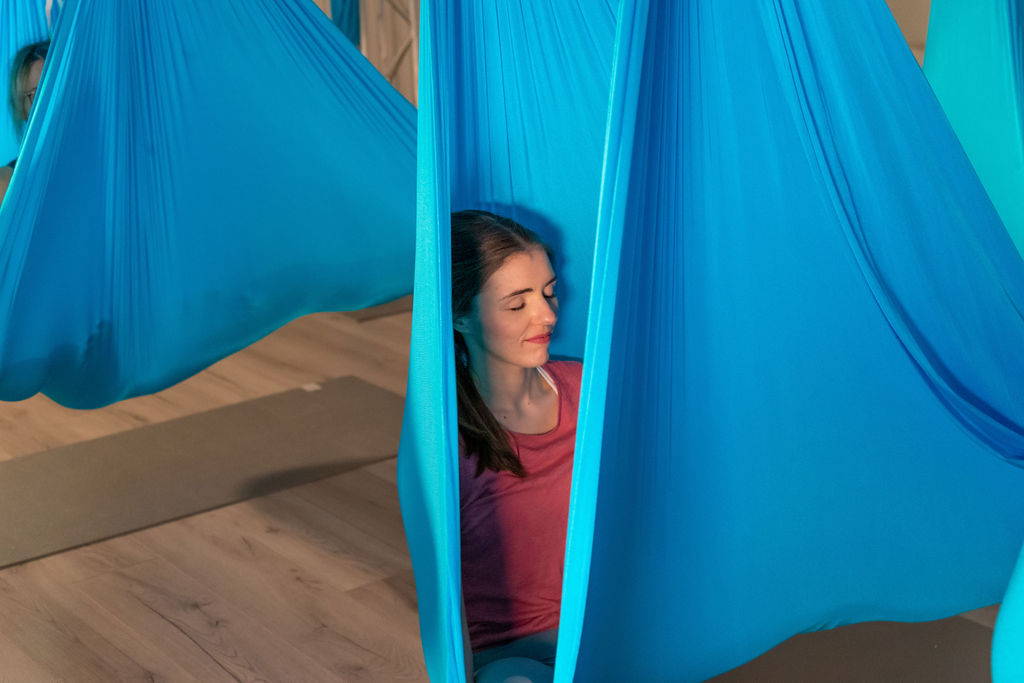 Aerial Meditation and Yoga Nidra
Can you think of a better way to unwind? Float away with us in our low lit warm and cosy aerial room. You will be guided through mindful gentle movement, breathing exercises to calm the mind, meditations to bring you into the present moment and a long sweet guided relaxation (yoga Nidra) where you will be fully supported lying down in the hammock with blankets for extra comfort and drift away into a deeply relaxed state.
Suitable for Everyone (except during pregnancy)!