Relaxing Restorative Yoga Classes
Introducing Aerial Yoga Party Packages at CALM
Discover the fun of aerial yoga, now available to enjoy exclusively with your nearest and dearest!
Whether you're planning a birthday, hen party, team building day or even just a good old catch up with friends, a private aerial class at CALM is sure to be the highlight.
Suitable for groups of up to 9 people, our aerial yoga packages provide an hour and a half of fun, discovery or pure relaxation, depending on what suits your group best.
Ready to plan the best day ever? Explore our packages below and secure your preferred slot today.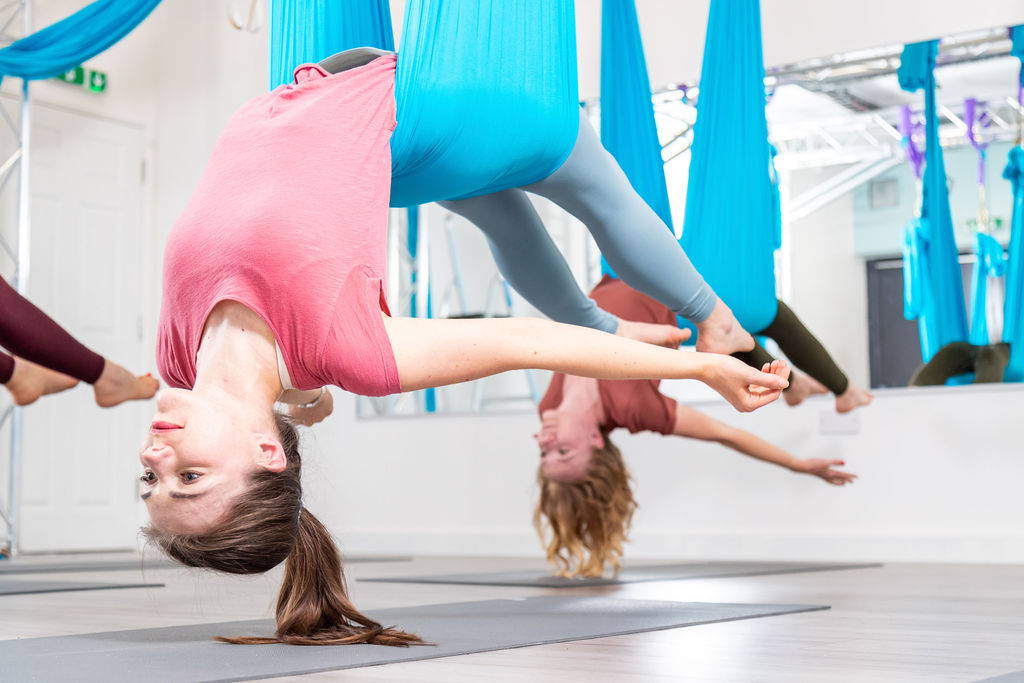 Yoga classes to help you relax and unwind
If there is one thing we know at Calm that is how to help you to relax. When you think of yoga you might not immediately think of relaxation, instead envisaging balances and twists and complex poses. There are actually many more relaxing restorative styles of yoga designed to help you calm your nervous system and relax. Choose from one of these relaxing yoga classes and feel the stresses of the day ease away. Leave the studio feeling a sense of inner peace and complete calm. All our relaxing classes are suitable for beginners.
Choose from:
Restorative yoga
Yin yoga
Mindful movement and meditation
Aerial meditationa and yoga nidra (we don't call them heavenly hammocks for no reason!).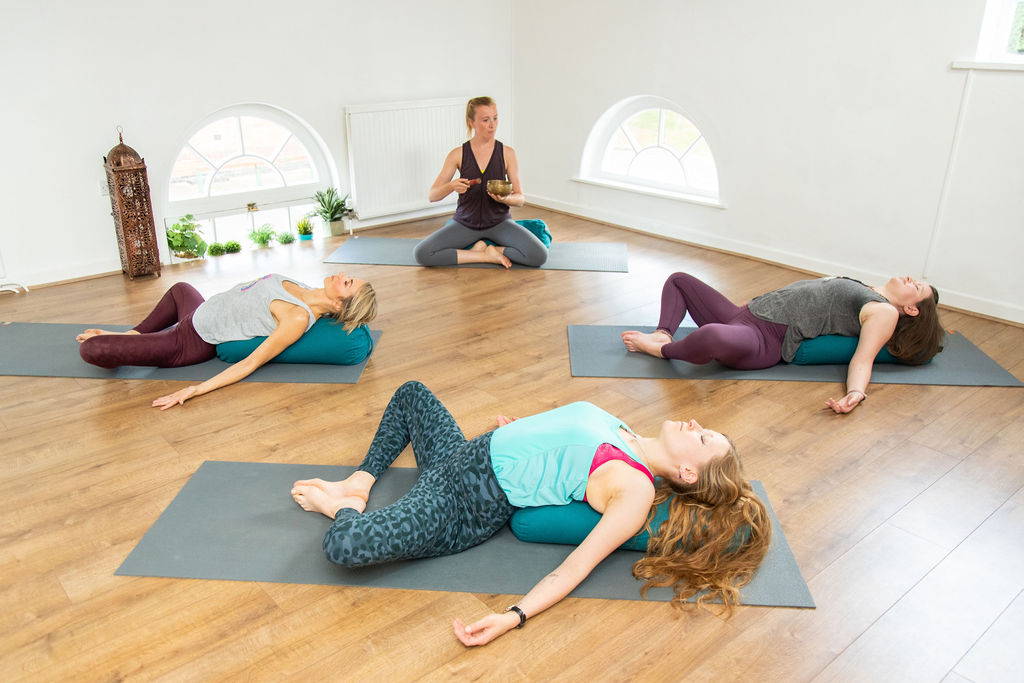 ---
Our relaxing yoga classes: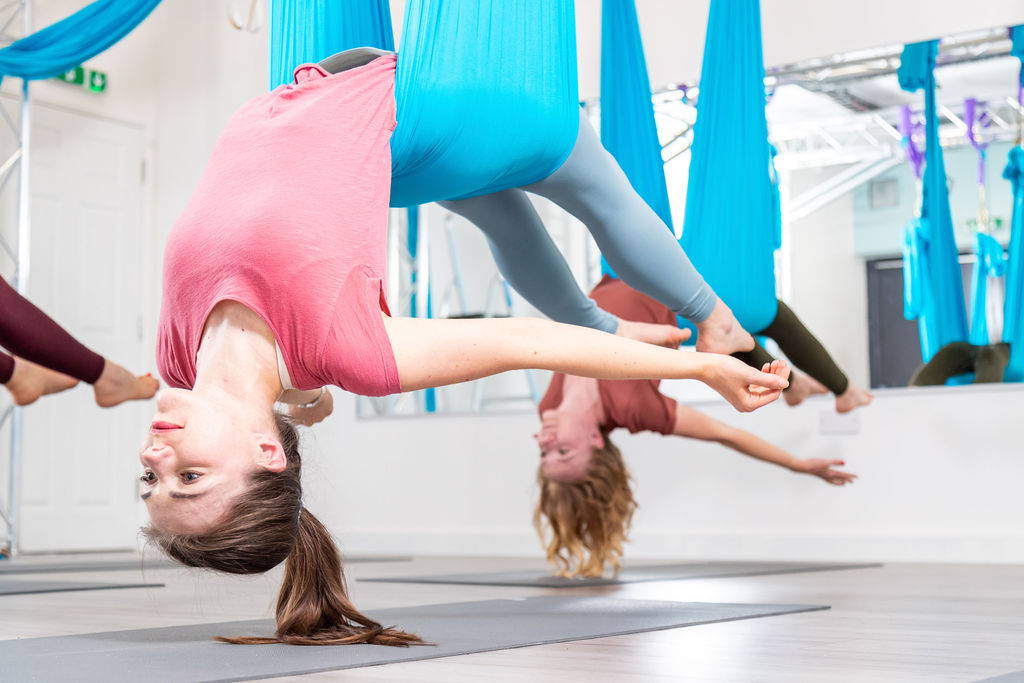 This package aims to get you upside down and fighting fear into the most insta-worthy of postures!
Suitable for all but best for those who have attended at least one general aerial yoga class.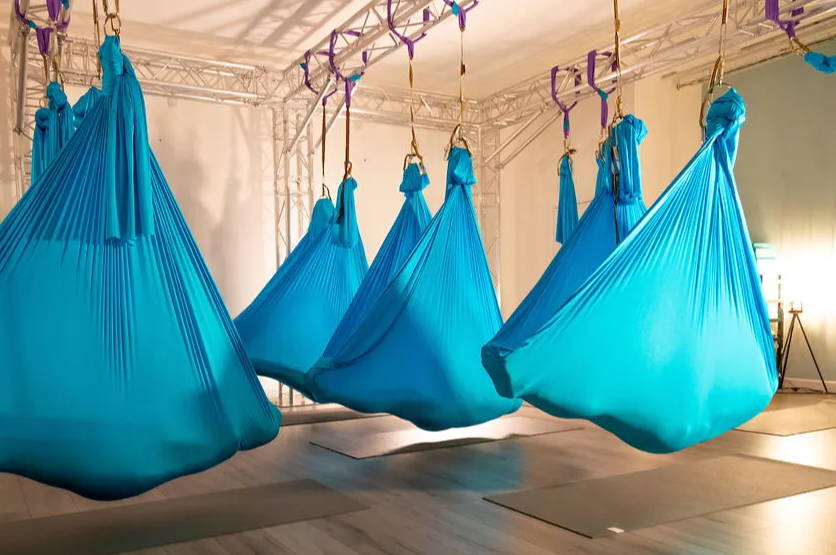 A purely relaxation focussed session at the lower height hammock. Floating effortlessly just off the ground.
We use additional props such as blankets and bolsters for maximum comfort.
Leave feeling weightless and stress free.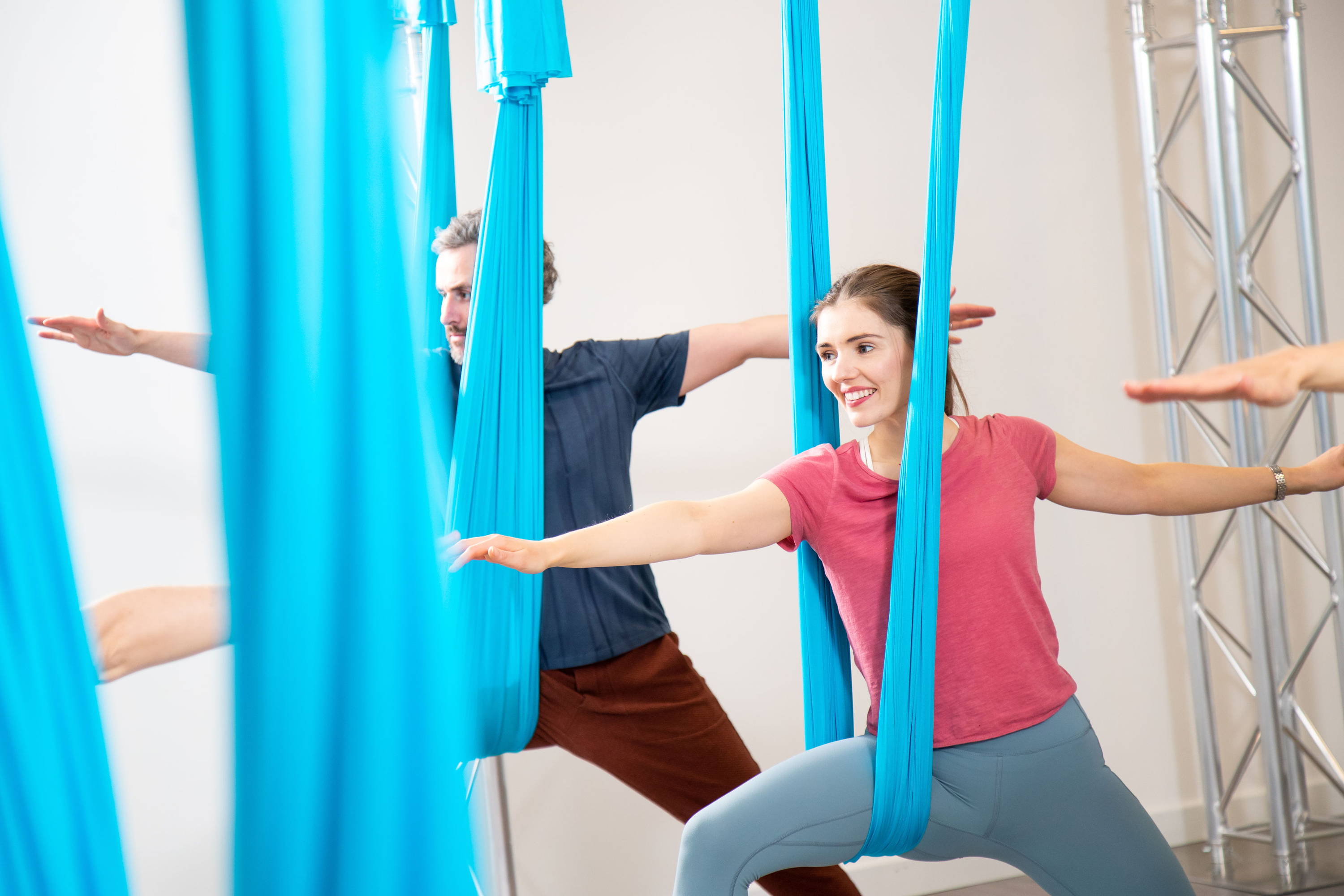 For beginners to build confidence together.
You will be guided through the use of equipment into different supported yoga postures.
Watch your confidence and skills grow as the session progresses!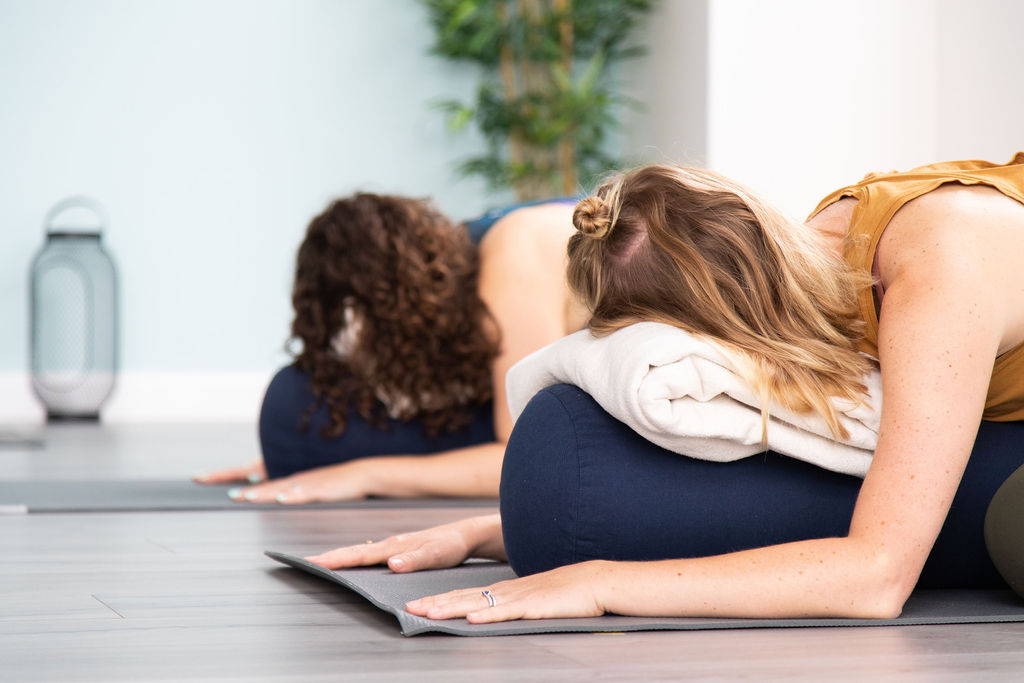 Restorative yoga is ultimately about relaxation. Unlike the faster paced sister practices of yoga, restorative is all about slowing down. During the practice of restorative yoga, shapes are held with the support of props such as blankets, bolsters and blocks for anywhere from five to twenty minutes. In restorative yoga the body is to be completely supported and held, allowing the practitioner to let go of all effort and release into the pose.
Restorative yoga has many physical benefits, but perhaps the most important benefit of all is that through providing the right conditions, the body enters a state of relaxation which helps to stimulate the parasympathetic nervous system, thus reducing the impact of the body's stress response. Each sequence aims to move the spine in all directions, undoing many of the habitual movements in our average day for example, hunched over desks, driving cars, holding babies.
Let go of the day and come back home to yourself. Our gentle restorative yoga classes are suitable for all abilities and will stretch out your tension and help you to find stillness within. Using guided meditations and relaxing yoga nidra while supported by props, this class will help you float away home for a peaceful night's sleep.
Find your next restorative yoga class: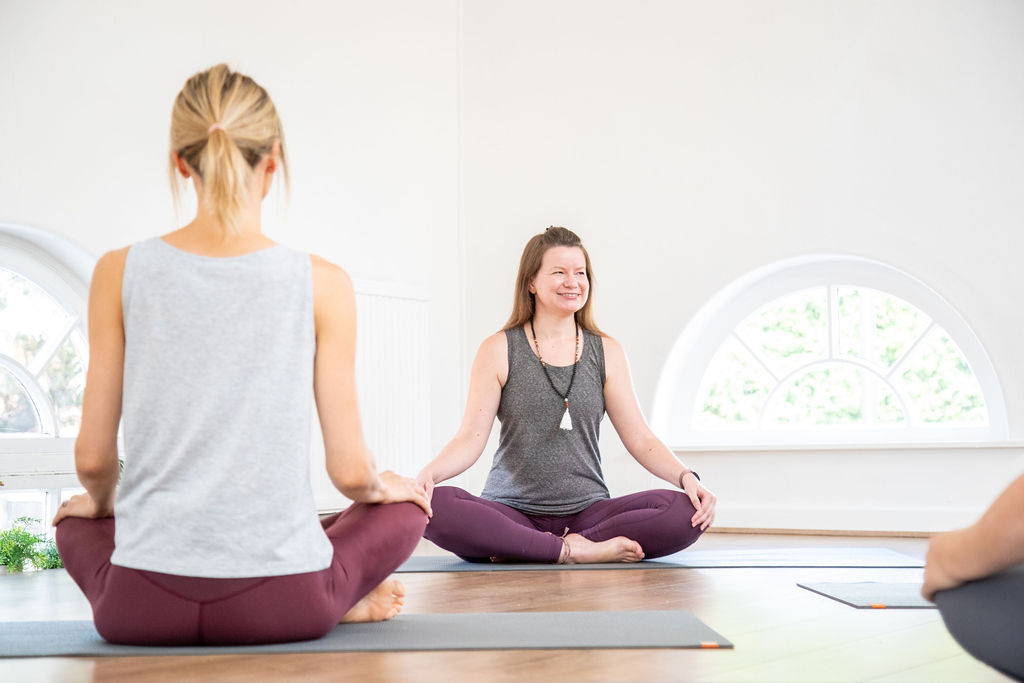 Mindful Movement and Meditation
Mindfulness teaches us how to be disciplined with our focus. Our mind habitually wanders away from the present moment. It is easy for us to get lost in this state of almost 'virtual reality' and forget to pay attention to what is actually happening at any given moment. Practising mindfulness helps us to become completely engaged in the present moment, allowing us to notice small and enjoyable things we may have missed. Meditation is a more formalised way to practise mindfulness and perhaps the one people are most familiar.
In a mindful movement and meditation class at Calm we will start with a gentle movement practice suitable for all to prepare your body for seated meditation. You will be guided through several short meditation practices before finishing the class with a deeply relaxing yoga nidra (yogic sleep). Wear warm comfortable clothes.
It is a common myth that you need to clear your mind to meditation. It is important to remember that thoughts are inevitable. Thoughts are like clouds in the sky. Sometimes there will be lots of clouds, sometimes the sky will be clear. Even when there are clouds, if you were to take-off in an aeroplane you can go beyond the clouds to see the clear sky.
Find your next mindful movement and meditation class: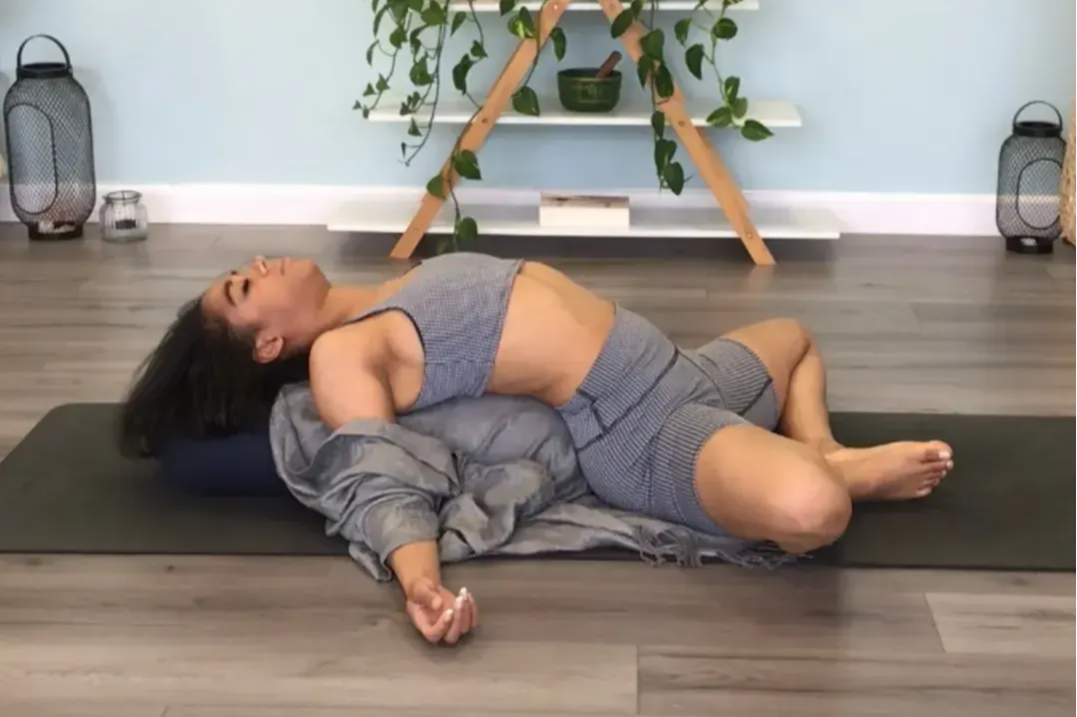 Not to be confused with restoraitve yoga, but similar in the overall feeling it create. In a Yin Yoga class, you will enter into a deep state of relaxation where you can let go of your worries, to develop a greater sense of awareness and contentment. Yin Yoga is a slow- paced style of yoga, which involves melting into a reclined or seated position and holding these restorative poses for 3 minutes or more, depending on your ability.
As with restorative yoga, in yin yoga we are supported in our poses by props such as bolster cushions and yoga blocks and bricks, which enable you to really stretch out the muscles and tissues around your joints, combatting tension in a subtle but unique way, that might not be possible in more energetic yoga classes.
Find yoru next Yin class: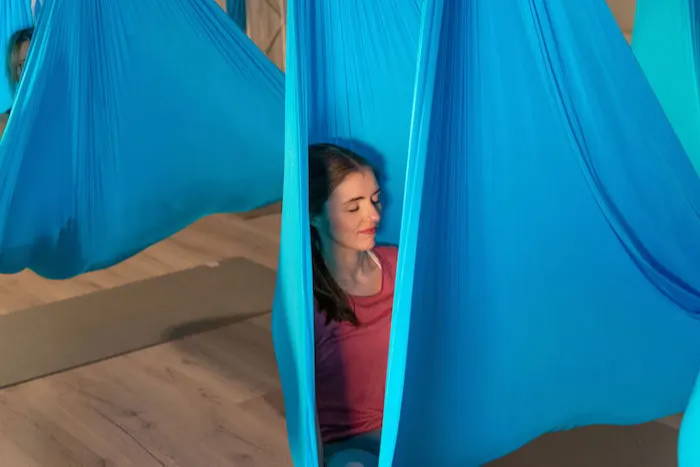 Aerial Meditation and Yoga Nidra
Can you think of a better way to unwind? Similar to our mindful movement and meditation class but with the addition of an aerial yoga hammock for a truly relaxing experience. Float away with us in our low lit warm and cosy aerial room in Derby. You will be guided through mindful gentle movement, breathing exercises to calm the mind, and meditations to bring you into the present moment. We end the class with a long sweet guided relaxation (yoga nidra/yogic sleep) where you will be fully supported lying down in the hammock with blankets for extra comfort as you drift away into a deeply relaxed state. Anyone can practise yoga nidra but it is particularly beneficial for those who struggle to let go and it can be great for reducing stress and anxiety as the mind relaxes, brain activity reduces and the body enters a healing state. It is said that one hour of yoga nidra can give the same benefit as four hours of sleep!
Aerial Mediation and Yoga Nidra is only available at our Derby studio and not suitable during pregnancy.