Stand-Up Paddle-Boarding (SUP) & SUP Yoga
Following several months of trials out of our Burton studio we are delighted to announce that we are now running general SUP classes for all levels, as well as SUP Yoga on the on the beautiful and still unspoilt River Trent.
SUP has evolved from kayaking and surfing, and involves standing on a board and paddling on the water. It is one of the fastest growing sports and forms of exercise with SUP Yoga rapidly growing in popularity. Why not try something new today?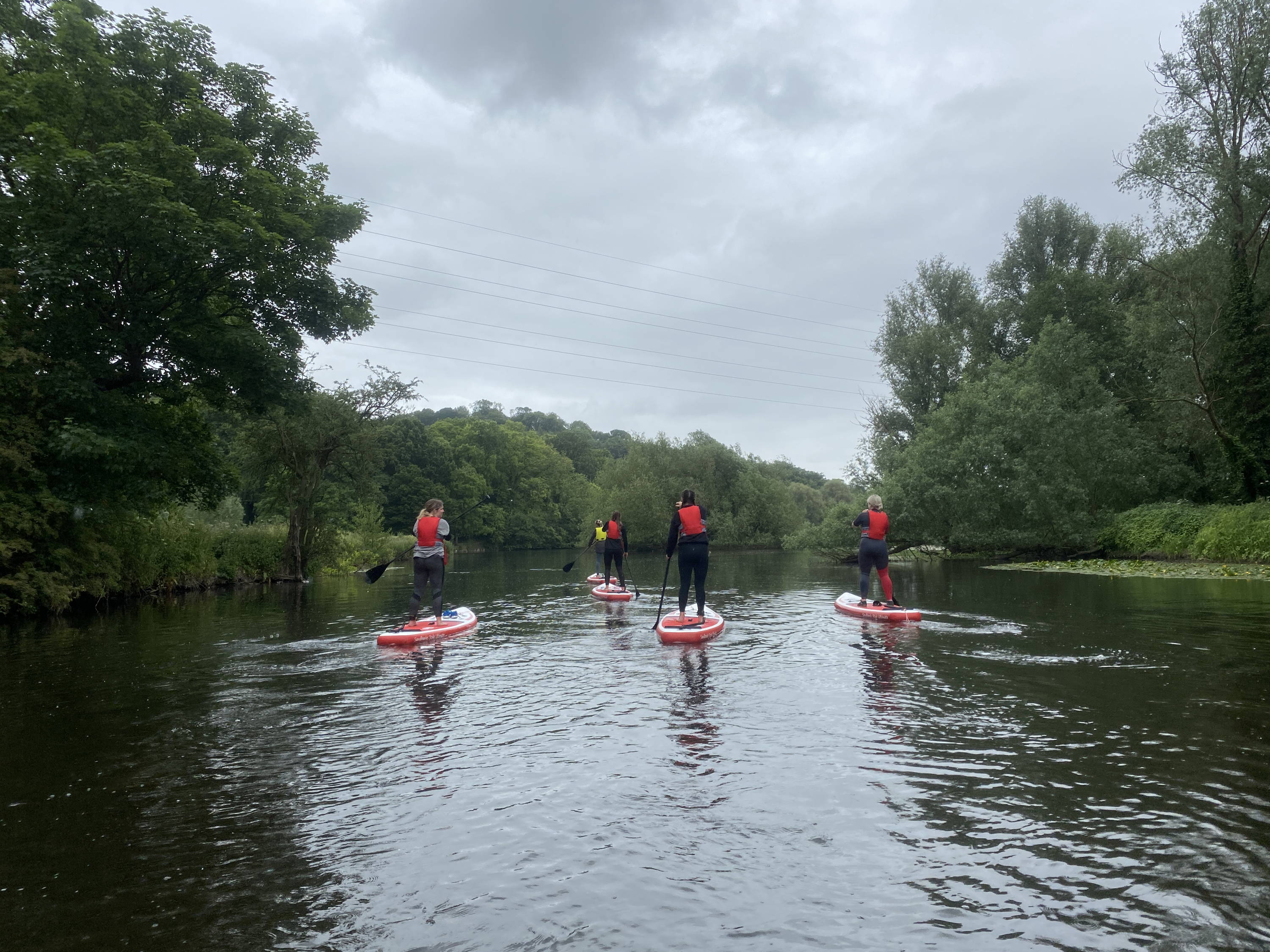 Frequently asked questions
What COVID-19 precautions are there?
On arrival we meet in the Calm carpark where you can wait in your car or stand outside maintaining social distancing. The studio building is currently closed so you will not have access to facilities here. All equipment is cleaned down with antibacterial and antiviral cleaning products before use. You will be asked to apply antibacterial gel before handling equipment. You are also welcome to wear gloves or masks if you bring those with you. Before, during and after paddle boarding social distancing is required. The maximum group booking size is 5 people.
Where do we meet?
The meeting place is outside of our Burton studio, you'll see the shipping container where the boards are kept.
What should I wear?
You are more than welcome to wear a wetsuit if you own one, although it is not a requirement. Comfortable clothing you can move in (adapt to the weather conditions), we recommend wearing old shoes to walk down to the river in and barefoot on the board gives the best experience.
What equipment do you have?
We have everything you need including a wide range of boards, paddles, and safety equipment. All our instructors have completed the BSUPA level 1 course and our lead instructor Dave has over 300 hours of teaching experience.
Is it safe?
We have worked hard over the past few months to check every aspect of the classes and sessions in a wide range of conditions. We have a full safety management system in place and to ensure your safety we review where and how to operate classes and sessions on a daily basis.
Can I bring my children?
The river can be a dangerous and dynamic environment, and safety is our number one priority. We therefore have an age limit of 18 for all SUP sessions, or 16 if accompanied by a parent or guardian.
What sessions do you run?
We run a number of different classes, starting with the Beginner Session for those who have never been trained by a SUP instructor before. These 90 minute classes are restricted to 6 people so you get maximum benefit from the instructor. We recommend completing one of these classes first before trying any of the other sessions on offer. We also run Improver Sessions to help you build your skills, SUP Yoga Classes (involving a short paddle followed by a Yoga session on the water), and SUP safari's/cruises. Please check the timetable section of the website or check the CALM app for the latest sessions.
Do you run it year round?
We will stop running SUP at the end of October and re-start in the Spring. If there is interest and conditions are suitable, we may run some more limited sessions in the winter .
Can I arrange a group session?
As well as our scheduled classes, we also run private classes and sessions for groups, corporate clients, and team building events. Interested? Contact us using the form below to discuss your specific needs and help us tailor a package accordingly. We can also combine SUP with a yoga class in our Burton studio if you wanted a longer experience for your group.
If you have any further questions please don't hesitate to get in touch.